This is a Shoreham based Osteopathic Clinic which offers a whole range of alternative therapies. The site gives lots of background info, as well as times/charges etc.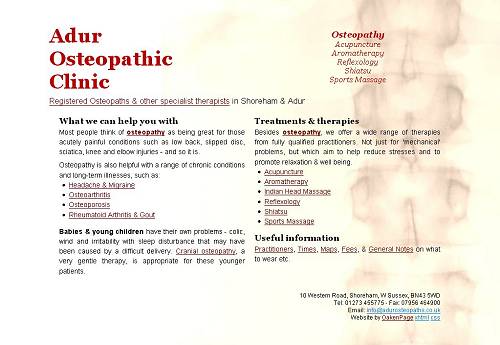 Website: www.adurosteopaths.co.uk
Owner: Andrew Bellamy [Registered Osteopath]
Customer's comments
We have found Geoff Adams of Oakenpage extremely helpful, astute and he has put a lot of thought into setting up our web site. Most impressive is the way that he continues to come up with ideas without us having to prompt him. We are very happy to recommend this service!
Technical notes
This site has a 'fluid' structure, with one or two columns of text on each page. The navigation is a simple list, and the site is written in static HTML/CSS

We utilised copy and graphics from existing paper handouts and brochures belonging to the clinic. These provide a lot of information about the various therapies available.

Andrew wanted a simple clean design, so we kept colours and font variations to a minimum. The background graphic was taken from an x-ray of the spine and then processed, so as not to overwhelm the text.

$css_refer= $_SERVER ['REQUEST_URI']; $css_refer = explode("?", $css_refer); ?>