Catherine Black, a wonderfull cello teacher, runs a variety of cello orientated courses and workshops in Lewes. Some are diagnostic in idea [looking how to improve a specific area] and others are for pure enjoyment. The latter includes 1 and 6 day ensemble courses purely playing lovely renaissance and baroque in company with like minded people. One nice thing is that all skill levels can work together.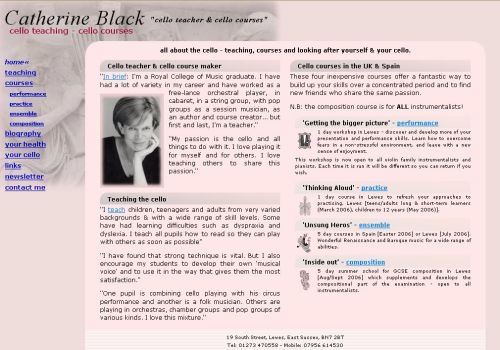 Website: www.cellocourses.com
Owner: Catherine Black
Customer's comments
Geoff really knows what he is doing. He is amazingly fast to respond when I need updates, good-humoured and does extra research to help you develop your site. I have been extremely happy with everything he has done for my site.

Geoff has done behind the scenes research for me to help raise the profile of my site. Because he knows what he is doing and I know little but have ideas, together things can really come together.
Technical notes
This was a replacement site for Catherine. She had some evocative photographs - which were re-used as backgrounds plus some nice smaller artwork which are thematically linked to specific pages.

The design is elastic, with a central content area which contains one or two columns of content. I took the colour scheme from the the main background photograph. At present the site is purely static HTML/CSS.

By the way - try googling for 'cello course' or 'cello courses' - Catherine has been ranked 1 for months!

$css_refer= $_SERVER ['REQUEST_URI']; $css_refer = explode("?", $css_refer); ?>