This is a site I designed and built for Caroline Evans, piano teacher and music tutor. She is based In Lewes, Sussex, living in a wonderful house with views over the South Downs.
Besides teaching the piano, Caroline tutors in aural skills, sight-reading, sight-singing and composition and is the author of a significant number of books relating to music teaching. One series of her books has recently been awarded the prestigious 'Retailers' Award for Distinction in Music Publishing'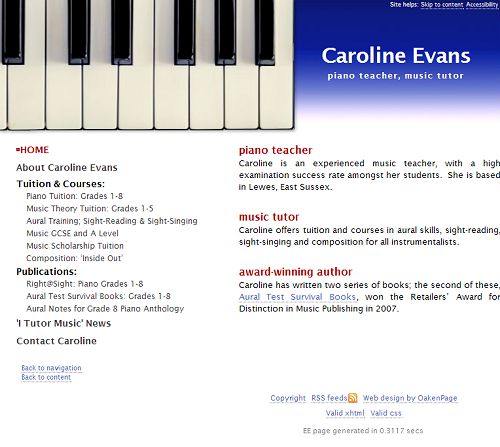 Website: www.iTutorMusic.com
Owner: Caroline Evans
Customer's comments
Geoff Adams has set up my first website quickly, efficiently and with a minimum of fuss.

He keeps in regular contact so that the client is kept up to date with progress. He is particularly adept at creating links and suggesting ideas to improve the site. He answers all queries promptly and in a friendly and straightforward manner.

His step by step user guides and user manuals are extremely clear and easy to follow.

I would not hesitate to recommend Geoff as a website designer.
Technical notes
Caroline wanted a website that reflected her approach to music teaching, direct and straightforward. She also wanted to be able to update the site herself.

I therefore used the Expression Engine CMS to manage the site, offering both static pages and a blog.

The site is fixed width, and is simple to use; relying upon good positioning and typography

$css_refer= $_SERVER ['REQUEST_URI']; $css_refer = explode("?", $css_refer); ?>