Kay is one of the UK's leader cello teachers - specialising in under 6's! Kay has had remarkable results with a teaching method she devised after years of experience with younger cellists.
Because the claims seem so fantastic [who could imagine 3 year olds playing], we have displayed a large number of comments and testimonies from parents and past/present 'cellobabies'.
Besides giving information about Cellobabies, the site also details Kays activities as a festival adjudicator.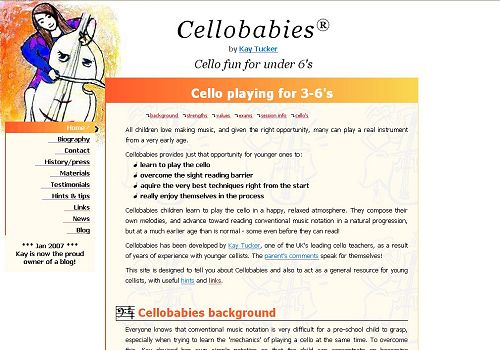 Website: www.cellobabies.co.uk
Owner: Kay Tucker
Customer's comments
'Geoff has not only produced a much admired website for me but continues to give invaluable help in updating and improving the site, keeping up with the changing trends and being a font of fabulous ideas for the wider business. He's much more than a web site designer, so I have no hesitation in putting him at the top of my recommended list'
Technical notes
This is a fixed width design, one column wide, with the navigation in a side bar. We wanted a nice bright colour scheme, as befitted the young age of the cellists. The cello girl logo proved really helpful here, providing a good strong orange - picked up in the header gradients. The music theme was echoed in the little graphics used for list items and for h2 headers.

The site was originaly purely static HTML [though always standards compliant], bu has recently had a blog [WordPress] added. I created a theme to match the existing site, so it appears seamless.

$css_refer= $_SERVER ['REQUEST_URI']; $css_refer = explode("?", $css_refer); ?>